About Dorcas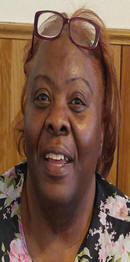 Welcome
We're so glad you came to check us out. This website is designed for those of us who are having concerns or issues with our weight. As you visit this site, my wish is to empower, motivate, and stimulate your mind and will to become better people and continue or start taking charge of your health. One of the ways to do that is to understand that weight is more than food.

My Desire is not to enforce eating or exercise as a way of losing weight. I started out this weight journey at almost 400lbs. My dream is to tell my story so others can recognize if they eat right and exercise, and don't look at the real life issues or what is going on in our mind, they will simply gain their weight back. Weight can be very complex. I don't say this from reading a book, but because I'm very much overweight myself. That's why I want you to know whatever your struggle is today, I simply say "ME TOO!" But guess what? We can and will overcome. You may ask how? SUPPORT! Simply "Push your foot up against mine." I choose to support you!
First let me introduce myself. My name is Dorcas. I already told you that; but what I didn't tell you is that I have grown up with self-hatred and unfulfilled dreams and desires because I allowed my weight and my name to hold me back. You may say what about your name? Growing up, I was always teased and bullied because of a name that most people had not heard of. Oh, did I tell you I am sixty one, and just now losing weight? I can't explain why it has taken so long to get the answer to my weight. Maybe it's because God had me waiting on you, so we both could take this journey together, and that is simply wonderful!

Power

Source


More women than men suffer from hypothyroidism, and many more women than men with thyroid issues have problems with weight gain. Most thyroid problems occur within the gland itself and often don't reveal themselves until a broader pattern of hormonal imbalance develops. That's why thyroid issues, menopause and weight gain often appear together. www.womentowomen.com

Anyway, I never felt as if I belonged because children would say, "I know why your mom named you Dorcas, because you're so dark." All kinds of things were said and done to me. I'm not going to go back, but continue to move forward. I just wanted to let you know how my childhood shaped me, and challenge you to see, if there are things in our childhood that were never resolved, it can sometimes trap us in our minds. As adults sometimes we struggle to answer the inner cry of our childhood with a desperate break free mentality.
Before we conquer addiction or anything that is bothering us, we must first build a foundation. What is that Foundation? The foundation must be truth. Later on we will talk about the lies I told myself. I had to admit I was a liar in order to bring myself to this point of realizing that only truth will set us free. Once freedom comes in a real way, then we can make a life style change regarding our weight and food choices.
I want you to know that before you start any weight loss or exercise program it is important that you have an honest dialog with your DOCTOR. A Doctor was the one, who pointed me in the right direction, regarding food.
PLEASE VISIT YOUR DOCTOR! Have a real conversation about your weight or whatever else you are struggling with—don't go it alone. I am not saying it is easy to have a real conversation with your doctor, or anyone for that matter, regarding something that is so personal and most of the time very painful, but we cannot expect our doctors to read our minds. Please visit your doctor.

'light on your feet-weight is more than food'
Blessings as we move forward in HEALTH,
Dorcas C. Chandler

spirit
*
soul
*
body

w
e
l
l
n
e
s
s
*
CONTACT US:
Email US!

"Thank You For Visiting Our
Website!"